For each product, we compute the degree of processing using the NOVA classification:
Group 1 - Unprocessed or minimally processed foods
Group 2 - Processed culinary ingredients
Group 3 - Processed foods
Group 4 - Ultra-processed food and drink products
When we introduced NOVA 3 years ago, I created icons with a style similar to the Nutri-Score logo: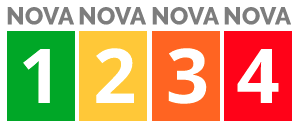 But the icons have issues:
NOVA has to be explained, it's not obvious from the icon what "NOVA 3" is
even though the groups are numbered, it's not really a scale. e.g. NOVA 2 is things like sugar, salt, spices: it's not something that is worse than NOVA 1.
with 2 scales A/B/C/D/E for Nutri-Score and 1/2/3/4 for NOVA ,it's hard to know how to compare a Nutri-Score C / NOVA 4 product with a Nutri-Score D / NOVA 3 product. And with Eco-Score it's getting worse.
the most important distinction is between NOVA 3 and NOVA 4.
So it could be a good thing to change how we display the NOVA groups. In fact we may decide to not put the name NOVA up front, and instead highlight "Unprocessed", "Processed", "Ultra-processed" which can be immediately understood.
Whenever we can, we display both an icon + a corresponding text. So we could for instance have a red factory icon for ultra-processed + the text "Ultra-processed foods" as a description, for instance in Knowledge Panels and Attributes.
Here is what we display today: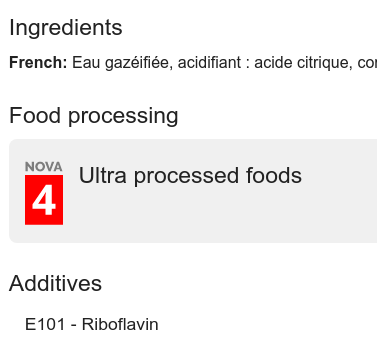 If we do replace the NOVA icons by something else, what could it be?
If we can, we should avoid having text in the icon itself (Nova or Nutri-Score is fine, but if the text has to be translated, that would mean we would need different icons by language)
In some settings, the icon will be displayed without an additional text (e.g. small icons in lists of products, in the app and on the website).
Ideally it should be obvious that the 4 icons refer to the same thing (e.g. if we use one icon with different colours, it's obvious, but if we use a factory for NOVA 4 and a carrot for NOVA 1, then it's less obvious)
Any ideas?